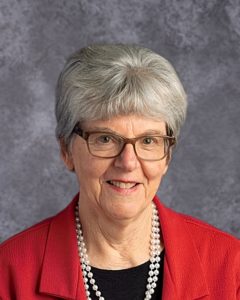 Mrs. Cheryl Mixter has been a teacher at our school for more than 21 years. She has taught grades 3 and 4 for many of those years, but she is moving over to grades 1 and 2 to help Mrs. Reed with the lower grades.
She is not only a teacher but is also a mentor and minister to our students and their families.
She chose to go into Christian education because she believes in the importance of children growing up with Christian values rather than secular, humanistic, worldly ideals. Her love for teaching the Bible makes teaching in a Christian school pure joy. Her goal is for her students to grow up to love God and put Him first in their lives.
Mrs. Mixter is a wife and the mother of two sons, both of whom graduated from Calvary Christian School. Her favorite verses are Proverbs 3:5-6 and Joshua 1:9: "Trust in the Lord with all thine heart; and lean not unto thine own understanding. In all thy ways acknowledge Him, and He shall direct thy paths." "Have not I commanded thee? Be strong and of good courage; be not afraid, neither be thou dismayed: for the Lord thy God is with thee whithersoever thou goest." She lives by the quote, "Do Right." She loves the Lord with all her heart, and she loves her job, as is evidenced by her work ethic and her desire to help the students.