As a member of the Golden State Association of Christian Schools (GSACS), Calvary Christian School offers its students an opportunity to compete in an academic and fine arts competition every year. The high school and junior high students compete in early spring, taking an overnight trip to Santa Maria, California. The activities begin on a Thursday afternoon, extend late into the evening, and finish up Friday morning. The competition opens and closes with a challenge from God's Word, placing Him at the center of the event. Since it is a competition, an awards ceremony closes out the time.
Elementary competition is for students in grades 1 through 6. They have a one-day event in Stockton which also begins and ends with a challenge from the Word of God and closes with an awards ceremony. All those who attend competition make memories they cherish the rest of their lives.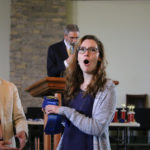 Even though competition is fun, the benefits of the event go far deeper. Students expand their horizons as they enter categories they may have never tried before. As they memorize speeches and music, they sharpen their minds. Public speaking and performance skills are also honed and will become invaluable no matter what career the students choose to pursue in life. Looking beyond the basic benefits of competition, the staff at Calvary focus on how the skills the students develop can be put to use in the local church to serve the Lord. In addition to speech and music, students can compete in art, academics, Bible quizzing, and Bible memory.
The junior high/high school competition takes the elementary competition categories and expands upon them. Photography, digital media, and inspirational videos are added. Speech expands to include group acting, duet acting, reader's theater, choric speaking, extemporaneous speeches, and debate. Bible preaching and Bible teaching join Bible quizzing in the upper grades. In addition to academics, science fair is offered. All of these categories make the junior high/high school event a comprehensive competition. As the age levels progress, the judging gets tougher. Stage presence and composure become a greater focus for those categories where performance is part of the piece.
Nationals, as it is fondly called, takes place at Bob Jones University (BJU) in Greenville, South Carolina. A Nationals trip is a privilege for students and means extra work, additional practice, and raising the funds to cover the costs of a cross-country trip. For California students, Nationals means five days of adventure. Two days are spent traveling to and from South Carolina. Competition begins Tuesday evening with a chapel service. All day Wednesday and half of Thursday is spent competing against other first-place winners from across the United States. Thursday night is the awards ceremony, which includes a chapel service as well. Because BJU hosts the event, students have the added opportunity of visiting classes and seeing the campus when not competing. This event is a treat to all who attend.
Calvary Christian School has had the privilege of sending students to Nationals twice. Each trip pushes the students to improve from their GSACS performance, and they return home excited about the possibilities for the next year. Seeing God provide for the Nationals expenses also enhances each student's personal journey of faith. Traveling, performing, seeing how many other Christian young people there are, and perfecting their skills for the work of the ministry make a Nationals trip worth the cost and effort.
The benefits to competition, whether on the state or national level, cannot be weighed in ribbons or letter grades. They come in confidence, new skills, and a desire to push to be the best that God has created you to be. No one can put a number on that.
1900 Highland Dr., Hollister, CA 95023