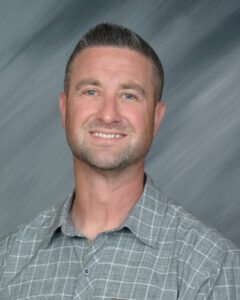 Coach Aaron Netzel joined the Calvary Christian School staff in 2016 as the school's basketball coach. He took over as the athletic director the following fall, assuming the responsibilities of scheduling football, volleyball, and basketball games as well as coaching the boys' flag football and both the boys' and girls' basketball. He also works with the elementary P.E. classes, helping the children learn new skills while getting plenty of exercise. His passion for sports, and particularly basketball, is evident in his patience in teaching his students the fundamentals of the sports and then pushing them to improve.
Coach Netzel brings over 20 years of coaching experience with him to Calvary. Before joining the CCS staff, he coached at Anzar High School and Spring Grove School and was the athletic director at Aromas School. Over the course of his career he has coached soccer, cross country, flag football, and basketball; but his first love is basketball.
"Coach," as he is affectionately called by the students, began his career at the age of 16, coaching a community soccer team. He fell in love with working with children, seeing them improve, and watching them surprise themselves when they excelled beyond what they thought was possible. He takes the time to teach his athletes about the importance of time management, commitment, and a strong work ethic through sports. Developing character in the next generation is at the heart and soul of what he does.