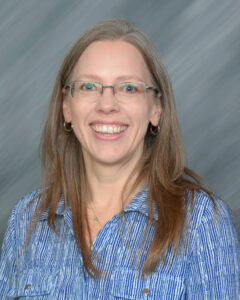 Mrs. Amy Butler joined the Calvary Christian School staff in the fall of 2013 as co-choir director for the grades 7 to 12 music program. She has been teaching elementary music since the fall of 2019 as well.
Her musical ability stretches far beyond just playing the piano, though, to coaching students on vocal parts, instructing hand chime and recorder choirs, planning and selecting music pieces, and directing the elementary choir. Having her co-direct the grades 7 to 12 music class allows for greater flexibility in working with individual parts of the larger choir along with forming smaller ensembles.
In the fall of 2020, Mrs. Butler expanded her duties at the school and came in to act as a teacher's aid in first and second grade. She loved the experience so much that she decided to join the school staff full time in the fall of 2021 as the new kindergarten teacher. Her years of teaching junior church, Sunday school, Vacation Bible School, and Master's Club have built the framework for making her a solid classroom teacher.
Mrs. Butler loves teaching children how to lift their voices in praise to their Creator and to live for Him. Regardless of the circumstances of life, He is worthy of our praise. Her favorite verse speaks to one of the reasons she finds Him so praiseworthy: "He shall cover thee with his feathers, and under his wings shalt thou trust: his truth shall be thy shield and buckler," (Ps. 91:4), and she loves the hymn that is based upon it, "Under His Wings."