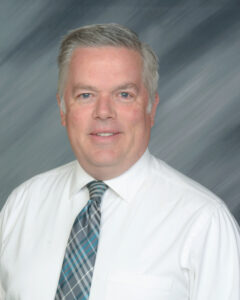 Mr. Rick Mattish began teaching at Calvary Christian School in 1995 as grades' 7 to 12 math and science teacher. In 1999 he became the school's vice-principal, and the principal in 2009. Although he is responsible for all administrative decisions, he keeps in touch with the classroom by continuing to teach in the upper grades and referee for school sports games when needed. His twenty-plus years of experience in education have contributed to shaping his vision for Calvary Christian School.
His vision for Calvary is that it be a place where God is honored as young people develop strong character consistent with Biblical values in an academic setting that inspires each child to succeed to the best of his or her ability. This vision for the betterment of the students and the school drives every decision that he makes. As the administrator, he strives to lead each of his staff members as Christ commands, through servant leadership.
Rick and his wife, Stacey, have worked side-by-side in the school since 1995 and have enjoyed seeing all three of their children attend and graduate from Calvary. All their children have gone on to Bible college for further training, preparing for the life God has for them. When considering his undergraduate degree, Mr. Mattish chose Christian education because of his strong conviction in the value of an education that includes Christian values and a biblical worldview. This conviction is what drove his decision to educate his own children in a Christian school.